Apps for transport operators enabling value-added services through SMEs and freelance drivers


1
Issues
On the logistic data exchange.

Analogic solutions
The transport sector is made up by a lot of SMEs and few large companies, working together by subcontracting operations.
The information exchange is based on the telephone , fax and email.
In case of incidence the needed time to manage a complete operation is 25 minutes.
Expensive, inefficient and low quality manual data exchange between SMEs and Large companies.
Vertical solutions
Each logistic operator generates their own solution, it implicates the next problems:
For the transport freelance:
The difficulty to have to use different apps, gadgets and procedures if they work for divers operators
Hardware costs
For the logistic operators:
Maintenance and purchase costs or the developement of a technologic solution
Hardware costs
Not all the operators can afford it.
2
Solutions
Universal and Neutral data exchange. Single app to all sector
Easy to use and maintain, affordable.
Reduction of administrative costs and facturation time.
Justification against reclamations.
Incident tracking and evidences.
De-centralized, avoiding data storage.

3




Players and solutions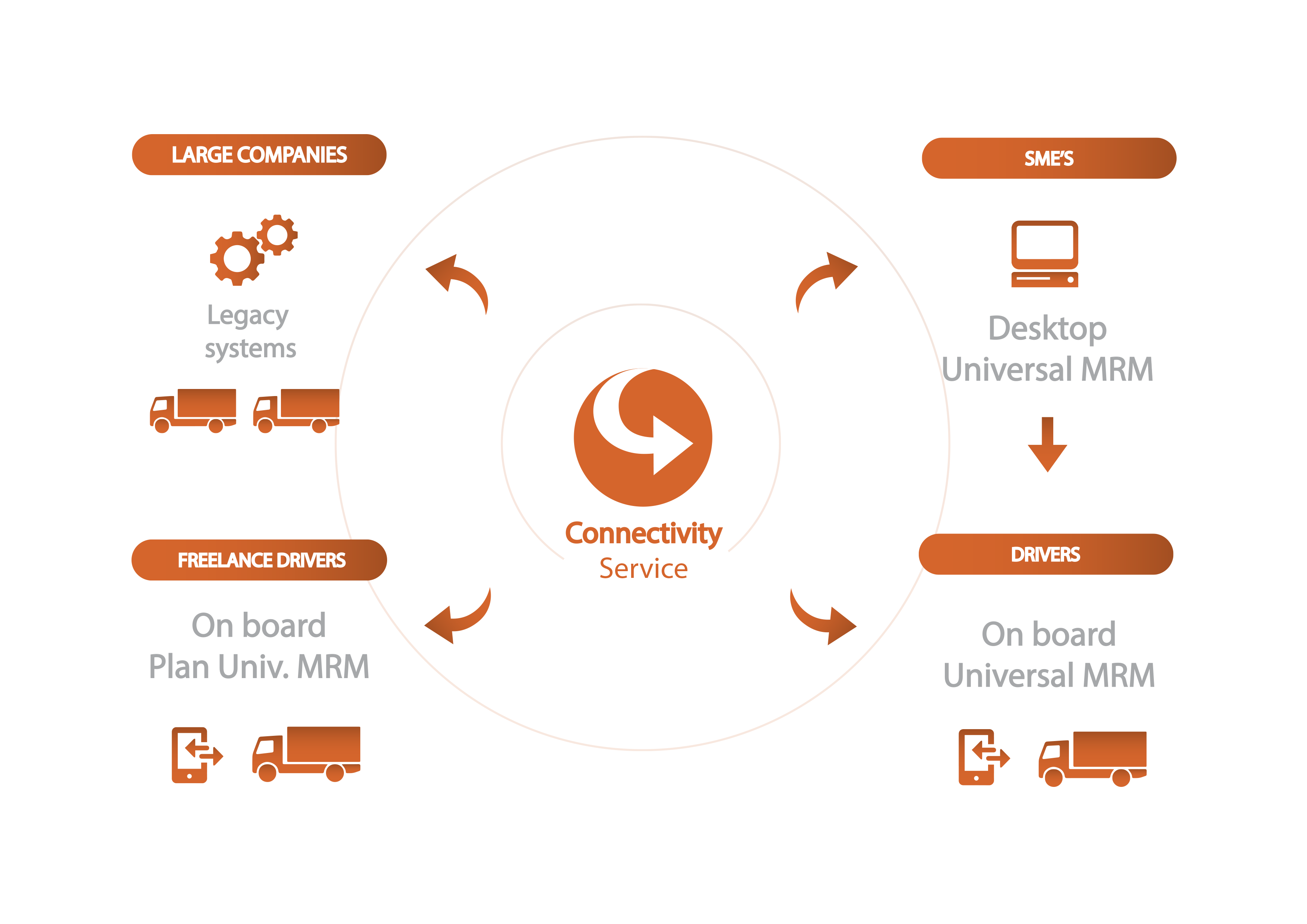 4




Products

Connectivity
Service to transform and move information from
a company to another one
Example: between a MRM and an ERP
Desktop Universal MRM
Web App to accept, plan and track transport
services of a medium fleet, sharing
information with others
Ex: between fleet manager and driver

On board Plan Univ. MRM
App to accept, plan and track transport services
of a small fleet, sharing
information with others
Ex: between freelance and others
On board Universal MRM
App to track transport services
of a truck, sharing
information with others
Ex: between truck driver and fleet manager
5




Currently used by: