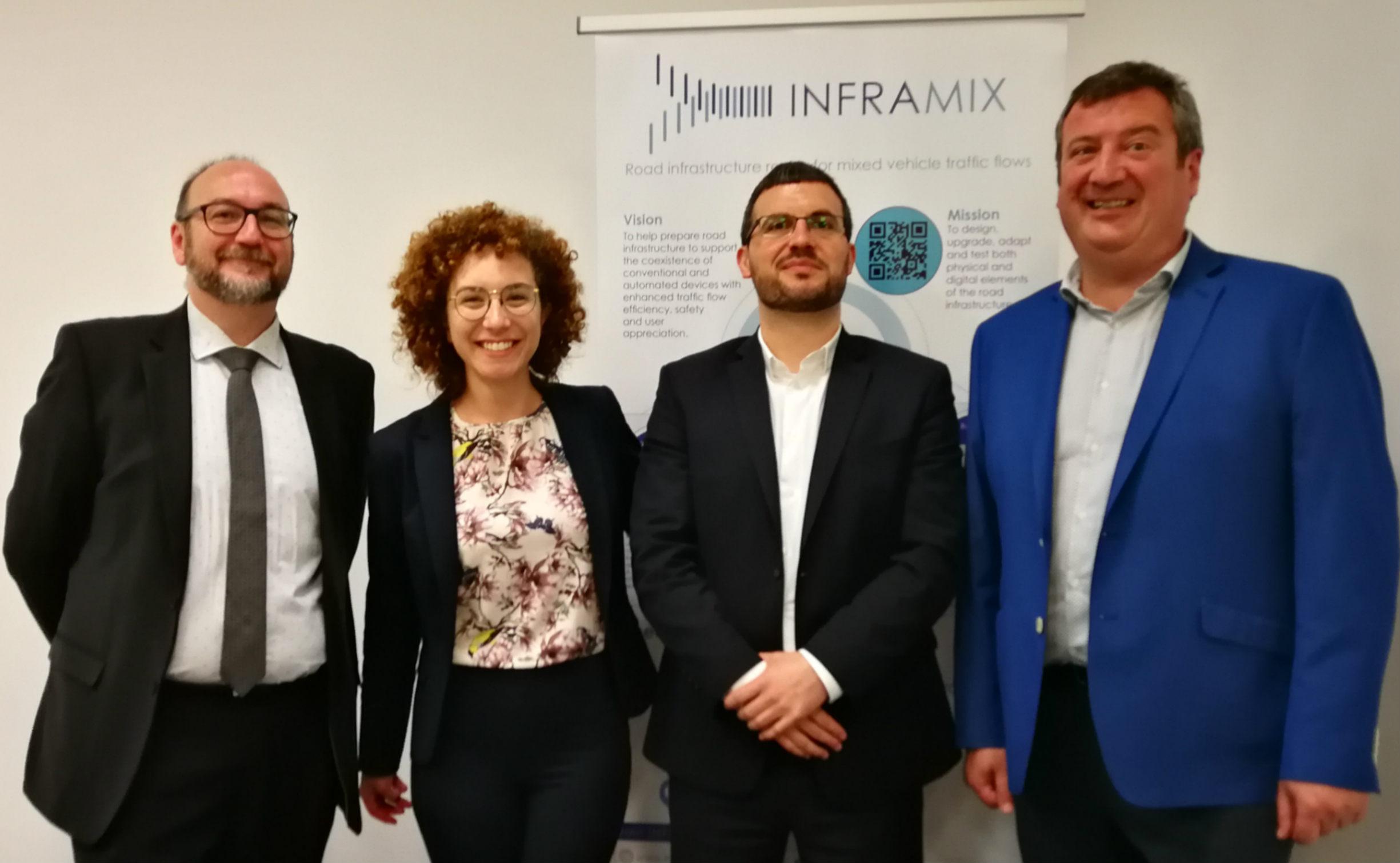 ENIDE AT THE FIRST INFRAMIX WORKSHOP
Enide and Abertis Autopistas have organized Inframix first interactive workshop as a side event of Automobile Barcelona on 14th May 2019.
Automobile Barcelona
Automobile Barcelona is one of the major fairs of the automobile sector in Europe. Furthermore, the 2019 edition was celebrating the first century of this exhibition. Thus, organizing the Inframix first interactive workshop as one of its side events meant a suitable occasion for reaching targeted stakeholders in the field of automated mobility.
Inframix
Inframix is a European project funded by the European Commission under the Horizon 2020 programme. It is preparing road infrastructure to mixed flows of traditional, connected and automated vehicles. Inframix aims at introducing specific physical and digital solutions to adapt the existing road infrastructure to the emerging needs of automated driving. The final goal is to guarantee efficient traffic management, improve road safety and ensure users' acceptance of the innovation proposed.
Inframix first workshop
Enide and Abertis Autopistas have organised the first Inframix workshop: "Preparing road infrastructure for the introduction of Automated Driving". The workshop was meant to increase the visibility of the project among targeted stakeholders, such as road operators, car manufacturers, but also institutions and end users. Furthermore, it represented a valuable occasion to foster mutual knowledge and best practice exchange among different European projects and working groups focusing on automated mobility. Finally, the workshop was aimed at collecting constructive feedback from drivers regarding their user perception and experience.
As the name suggests, Inframix interactive workshop was designed to engage the audience as much as possible. Therefore, the main session revolved around a fruitful exchange among experts. Our panellists were not only accomplished mobility professionals, but also representatives of different European projects and working groups, namely ARCADE, CARTRE, ERTRAC, MAVEN and TransAid. The panel, moderated by Mr. Stamatis Manganiaris from ICCS, focused on two main themes:
Infrastructure Support Levels for Automated driving (ISAD)
New methods for managing traffic in the infrastructures.
An interactive session followed led by Ms. Katia Pagle from ICCS, where the attendees were invited to register their reaction to Inframix scenarios (bottlenecks, dynamic lane assignment and roadworks) through some polls and questionnaires. These latter will be analysed and will contribute to Inframix next developments.
Inframix workshop took place at the end of the second year of the project that turns now into its final stage of demonstrations. It will be followed by a second workshop in October 2019 in Graz, Austria, one of the demonstration sites of the projects.